Twenty-two suicides, every damn day with Yusuf Henriques | Podcast #13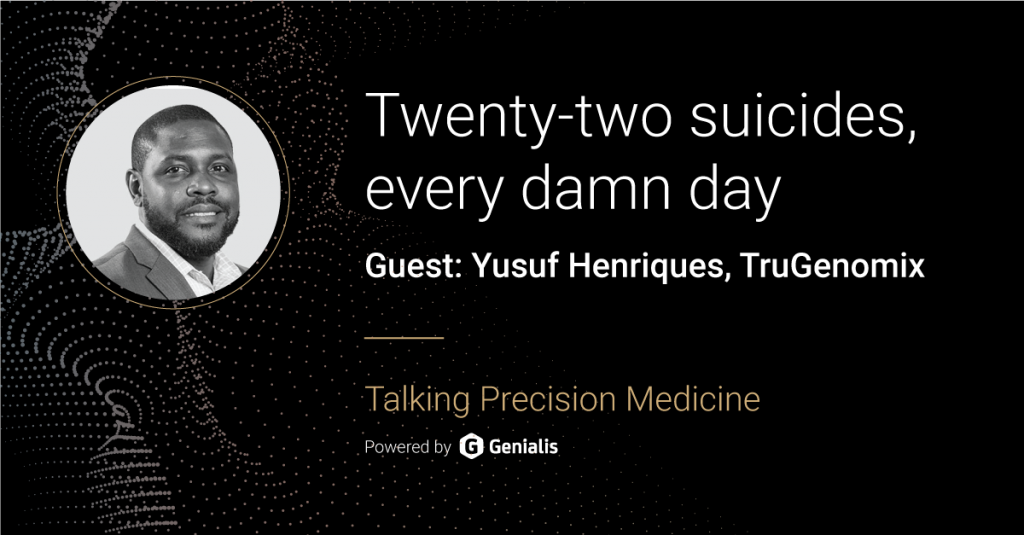 Welcome to the Talking Precision Medicine podcast. In this series, we sit down with experts on the application of AI and big data analytics in the drug discovery space. Our guests are innovators, business decision makers and thought leaders at the intersection of data and therapeutics. We discuss the promise, practice, challenges, and myths of AI in precision medicine. This show is brought to you by Genialis, and Rafael, our CEO, is your host.
Genialis is focused on data integration and predictive modeling of disease biology to help accelerate the discovery and de-risk the development of novel therapeutics.
Today our guest is Yusuf Henriques. Yusuf is co-founder and CEO of TruGenomix, a precision medicine company focused on the early detection and prevention of PTSD in military veterans and first responders.
In this episode, Yusuf reminds us that every day counts. Because every day there are 20 to 22 veteran suicides. This is what keeps Yusuf up at night, and keeps him pushing on all fronts to innovate a solution.
Episode highlights:
TruGenomix is a precision genomics company, that's focused on finding solutions for PTSD and other mental health illnesses using Next Generation Sequencing.
Research from Mount Sinai turned into an approved patent on Jan 2016 that allowed me to create TruGenomix and get us to where we are today, which is developing this particular blood test to help identify those that may have this predisposition on PTSD of exposed trauma or diagnosed PTSD.
In the system, there are about 9 million active-duty service members and the veteran population is about 20M. But there are only 8 or 9 M that are actively seen and care at VA
DOD and VA can fund research, but it really comes down to getting a champion like a veteran service organization to change the direction of the pipeline and start looking at innovation and how that could help.
Every day I wake up there is a new number of suicides and that's what keeps me up at night and keeps me pushing, and keeps me running all over the country trying to raise funding to get the thing done, because again, the government moves so slow I have to rely on outside VCs to get this going. And then let them chime in when they finally figure out that we're on the right path.