People first: building a company that inspires impactful work with Genialis leadership team | Podcast #30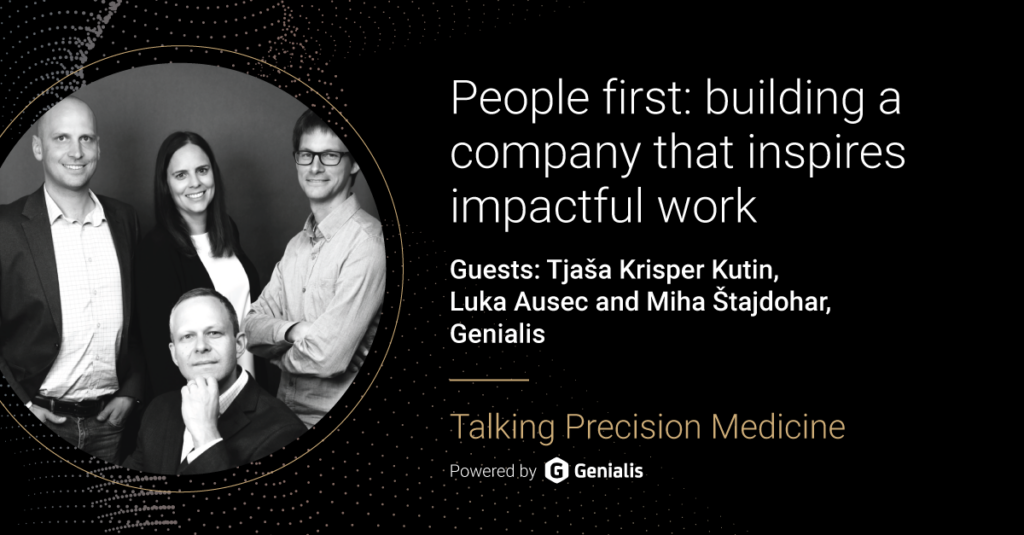 Welcome to Talking Precision Medicine — the podcast in which we discuss the future of healthcare and health technology, and how advances in data and data science are fueling the next industrial revolution. 
This episode, Genialis' thirtieth, is a bit different from the previous ones. CEO Rafael Rosengarten has not one, not two, but three guests, including the entire leadership team at Genialis. The gang discusses Genialis' twin quests to build a great place to work and a business that makes a positive impact on the world.
Come on in and have a listen.
Links:
Episode highlights:
Unlocking the Promise of Precision Medicine: Genialis' Quest
Cancer is not one disease, but many, thus no single medicine will work for everyone.
Even if a medicine works for some patients, it may fail to gain clinical approval.
Many medicines will have to be personalized based on individual patient biology.
"Precision medicine is a scientifically exciting field of research that has an enormous impact on the lives of people. I find a lot of personal satisfaction to be able to work in the area." – Luka Ausec, Ph.D., Chief Discovery Officer
People First, the Core of Genialis' Values
At Genialis, the core value is "people first."
The team acknowledges the significance of each member and creates an environment that allows everyone to be their authentic selves. They prioritize work-life balance and encourage being present in the moment.
The other 3 core values—ownership, constructiveness, and honesty—converge to support a truly unique and rewarding company culture.
"The way that I see it, you build a great company and a great business follows. I have no interest in building a huge business if the company itself is broken or not fulfilling for people." – Rafael Rosengarten, Ph.D., Chief Executive Officer and Co-founder
A "People First" Approach in the Context of Biomarkers
To enhance our biomarker discovery, we can't rely solely on the limited clinical trial data from a couple of responsive patients.
Instead, Genialis adopts a biological hypothesis-driven approach, incorporating proprietary, partner and publicly available data, as well as clinical outcomes, to classify phenotypes associated with response.
This approach adds value for translational scientists, clinicians, and health regulators, increasing the likelihood of developing a robust and useful model in the long term.
"One of the challenges with human data is that these datasets are typically small. [ … ] However, we have many of such datasets that we harvested over the years. We preprocess this data and make it ready to be mined together – we're essentially building a big data asset from small datasets that we can then coherently mine in our models." – Miha Štajdohar, Ph.D., Chief Technology Officer and Co-founder
Data to Knowledge: Utilizing AI
Genialis uses AI to process and extract insights from data, identifying patterns within it.
The team adheres to best practices in machine learning to address the entire model life cycle.
They strive to comprehend the model's learning process by scrutinizing the model mechanics and assessing it under various assumptions and visualizations. This aspect is crucial to regulated clinical applications.
ResponderID, a people-first machine learning platform for biomarker discovery
Genialis' core product is ResponderID, a scalable platform for the computational modeling of disease.
ResponderID delivers actionable biomarkers for use in translational research, clinical trials, and diagnostic devices.
It addresses needs of both (bio)pharma and diagnostics; but also other stakeholders like payers, providers, clinicians and investors.
Genialis Expressions, Genialis' data analysis engine
Genialis has focused on transcriptomics since its beginning, building a software called Expressions (with a new version 3.0 released in the beginning of May 2023).
Expressions manages any type of NGS data, and works particularly well with RNA sequencing data.
Expressions is the data engine at the core of ResponderID.
From Models to Supermodels: Genialis' Long-Term Vision for Cancer Biology
Genialis is also working on its own biomarkers to partner with interested pharma for validation and diagnostic firms for device development.
The long term goal is to combine multiple validated models of cancer biology to develop a "supermodel" that captures interactions between different biologies using a single input.
Managing a diverse team: bridging the gap between biology and data science
Managing a diverse group of colleagues, including biologists, data scientists, bioinformaticians, mathematicians and others, presents a challenge.
Genialis not only builds bridges between complex biology and data science, but also fosters a common language among team members from different fields.
To maintain a genuine human connection, especially with remote colleagues across different time zones, they organize retreats, events, and monthly Highlights meetings.
"I really hate it when people talk about companies as families. But friends is who we are and incorporating family members into our events connects us on a different level. It's always such a pleasure to know our colleagues' lives outside of work – it fills us with motivation and energy. It's something I cherish about this place." – Tjaša Krisper Kutin, Chief Operating Officer