Standing up the Alliance for AI in Healthcare with Annastasiah Mhaka | Podcast #08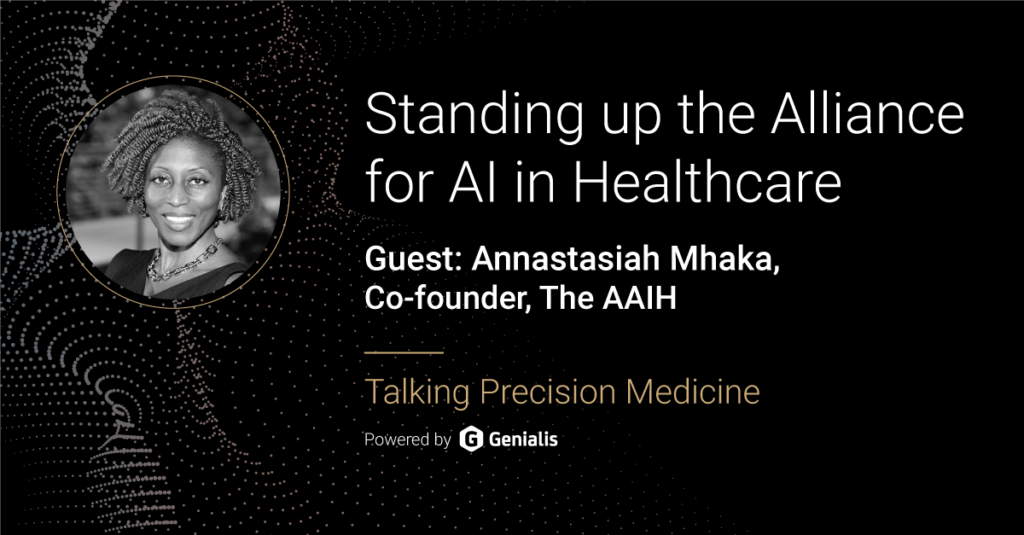 Welcome to the Talking Precision Medicine podcast. In this series, we sit down with experts on the application of AI and big data analytics in the drug discovery space. Our guests are innovators, business decision makers and thought leaders at the intersection of data and therapeutics. We discuss the promise, practice, challenges, and myths of AI in precision medicine. This show is brought to you by Genialis, and Rafael, our CEO, is your host.
Genialis is focused on data integration and predictive modeling of disease biology to help accelerate the discovery and de-risk the development of novel therapeutics.
Today's podcast is a special episode of Talking Precision Medicine, dedicated to the Alliance for Artificial Intelligence in Healthcare. The A-A-I-H saw its official hard launch at JP Morgan this past January, with a standing-room-only panel discussion at the Biotech Showcase. Our guest today is Dr. Annastasiah Mhaka, the muscle behind standing up the AAIH.
The Alliance is a global organization that aims to improve patient quality of life by creating more effective, sustainable, and accessible healthcare. Through its work on education, regulatory issues, technology standards, and more, the AAIH will foster the responsible development of emerging industry segments poised to have a tremendous impact across the healthcare spectrum.
At the end of our conversation with Annastasiah, we include some bonus material recorded at The Future of AI-Powered Healthcare panel discussion at JPM.
Full disclosure— Genialis is a founding member of the AAIH, and its CEO, Rafael Rosengarten, is a board director.
Episode highlights:
AI may be in a similar position as was advanced therapies back in the day. It's overhyped, it has a lot of potential, however, there are a lot of challenges. And a lot of these challenges are spread across the board, where even competitors can put their heads together and think constructively around these themes.

And this was the driver behind AAIH. From the hard launch at JPM, it seems like the message got out. It was the most RSVP-ed event at JPM outside of JPM for the whole week.

AAIH is dedicating its energy to educate, advocate, establish, and promote AI in healthcare, aiming to help facilitate responsible adoption & integration of AI in healthcare

The panelists from the JPM event Future of AI-Powered Healthcare include:

Brandon Allgood, CTO and Co-founder of Numerate

John Baldoni, Senior VP of In-Silico Drug Discovery, GSK

Maria Luisa Pineda, CEO and Co-Founder, Envisagenics

Bill Martin, President and COO, BlackThorn Therapeutics

Angeli Moeller, Co-Lead of AI, Head of Research IT Business Partnering, Bayer

Ben Newton, CDO, GE Healthcare Life Sciences