The evolving business landscape of health-tech with Luba Greenwood | Podcast #11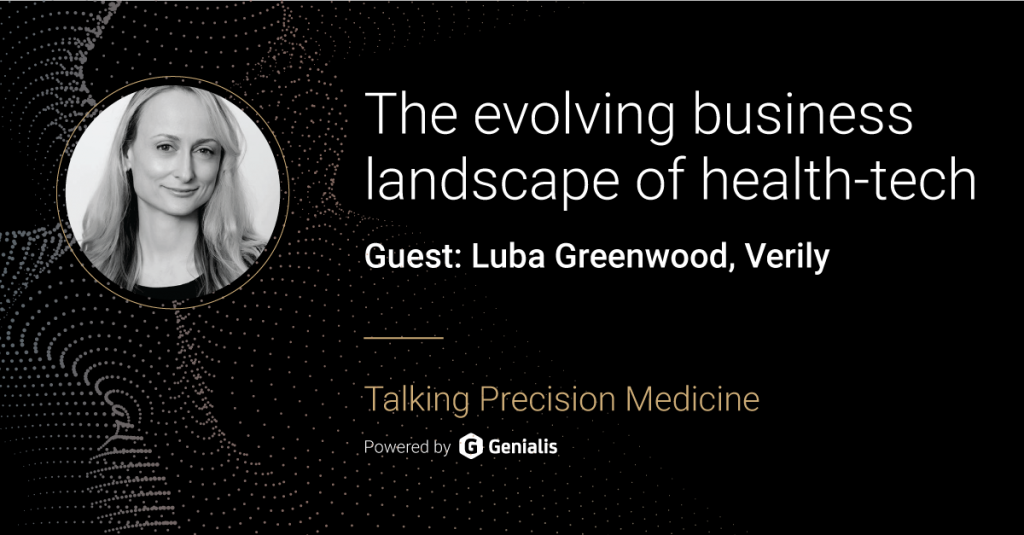 Welcome to the Talking Precision Medicine podcast. In this series, we sit down with experts on the application of AI and big data analytics in the drug discovery space. Our guests are innovators, business decision makers and thought leaders at the intersection of data and therapeutics. We discuss the promise, practice, challenges, and myths of AI in precision medicine. This show is brought to you by Genialis, and Rafael, our CEO, is your host.
Genialis is focused on data integration and predictive modeling of disease biology to help accelerate the discovery and de-risk the development of novel therapeutics.
Today we speak with Luba Greenwood, who works in Strategic Business Development and Corporate Ventures at Verily, an Alphabet company.
Luba brings to Google her experience in pharmaceutical, biotechnology, and digital health industries. Not to mention her expertise in building and investing in innovative technology companies.
She is on the Board of MassBio and Brooklyn ImmunoTherapeutics, and serves as an Advisor to the Dana Farber Cancer Institute.
In this episode, we dive into Luba's work across the intersections of healthcare and technology.
Episode highlights:
I am interested in the drug development space. These are drug development tools that when we talk about personalised medicine these are really the tools that enable that. As an example, there are companies that are providing sensors and building out platforms for basically what is cold virtualization of clinical trials, right where you can collect real world evidence, you can capture better patient reported outcome, you can continuously collect data, you can have a better enrollment engine. All of that is really with an effort to expedite clinical trials, reduce adverse events and ultimately really reduce the costs of clinical trials as well.
Another exciting area is the knowledge management area. If you look at cancer as an example, over 70% of cancer patients are seen by community hospitals. So there is a big demand for patient care pathways and we see great efforts in this space.
MassBio has played a tremendous role in getting various companies on my radar. MassBio has worked with the industry and biotech and pharma companies in MA and Boston, in particular, to bring the biotech companies here and not just bring biotech companies, but create an atmosphere and a place where young entrepreneurs will be provided with tools such as mentors, seed money, information about how to get grants and nondilutive funding. There is an amazing ecosystem that has been built up by MassBio and others over the last 15 years in MA.
We want to build the best type of environment for digital health companies, so that they can grow, stay, and get funding here. And most importantly I think for digital health as opposed to therapeutics is we bring in the people that help them build business models and revenue generating models. Because digital health is a very different type of player and business models are still growing and they are quite different, so we are providing that place for them.
What many companies do right now is simple piloting and once they start going into real clinical validation, once they get through the FDA approval, once they have some real exits from strategics (they don't have to be big, but actual exits from strategics) there will be more investment.