Building the Team to Decode Biology with Tina Larson | Podcast #16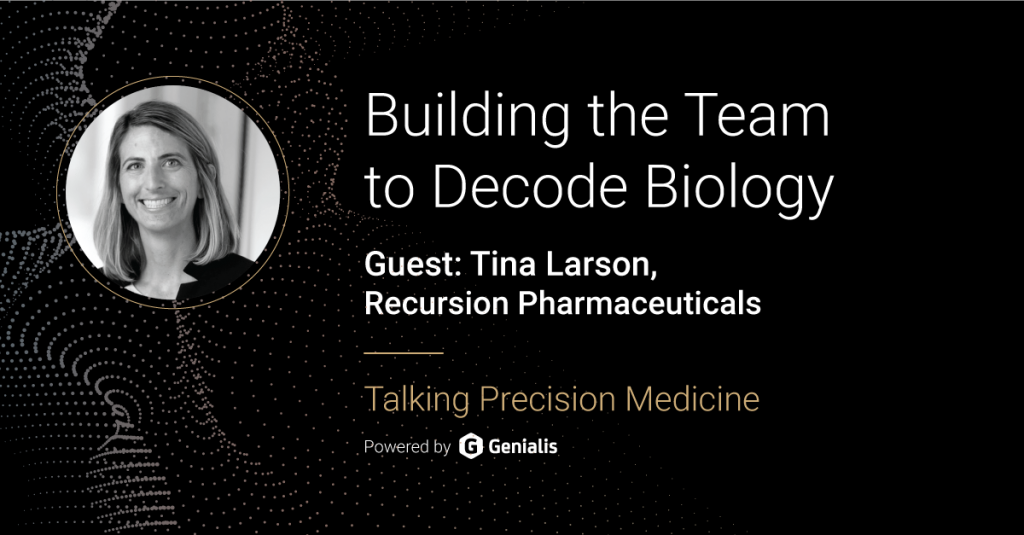 Welcome to the Talking Precision Medicine podcast. In this series, we sit down with experts on the application of AI and big data analytics in the drug discovery space. Our guests are innovators, business decision makers and thought leaders at the intersection of data and therapeutics. We discuss the promise, practice, challenges, and myths of AI in precision medicine. This show is brought to you by Genialis, and Rafael, our CEO, is your host.
Genialis is focused on data integration and predictive modeling of disease biology to help accelerate the discovery and de-risk the development of novel therapeutics.
Today our guest is Tina Larson. Tina is COO of Recursion Pharmaceuticals, where she is tasked with building the team, the operations and the culture to tackle Recursion's audacious goals. Tina has over 20 years of experience in the biopharmaceutical industry, and was recently awarded the 2019 Distinguished Alumni Award from her alma mater Colorado State University.
In this episode, we talk about the language of multidisciplinary teams, recruiting top talent while fostering inclusivity, and the promise of melding tech and biology to advance treatments at unprecedented scale.
Episode highlights:
The reality is, we are multidisciplinary. And what is the absolute key to solving problems in this way is that we need to get our biologists, chemists, data scientists, and software engineers all thinking about problems in the same way.
Leaders have a huge impact on how organizations think and behave. Caring about it [culture] starts at the top. If your CEO and the executive team don't truly care, no matter what initiatives you roll out or goals you set, the rest of the company is not gonna care.
We always hire the best candidate that's a very clear standard for us, but we kind of remind ourselves to do that extra work to diversify our talent. And what we've seen is a much broader diversity in the pipeline of candidates coming in. And it resulted in the number of women in the company has increased from 20% to about 40% in the last years.
Something that really stands out to me is how collaborative this community likes to be. Open-sourcing information, code, suing open source code, giving away code. Coming from a more traditional biopharma world, I learned here that there is a whole new level of the sense of people being as or even more dedicated to the global community of learning than to the specific company that they are working at.
The initial questions that we are asking with our technology platform are of the hundreds of thousands, millions of drugs sitting out there, held at pharmaceutical companies or elsewhere in the world, is it possible to repurpose any of those into disease areas that have been somewhat neglected by a small population and rare diseases.