Launching the Hubble Telescope to Cure Cancer with Charlie Silver and Nigel Beard | Podcast #17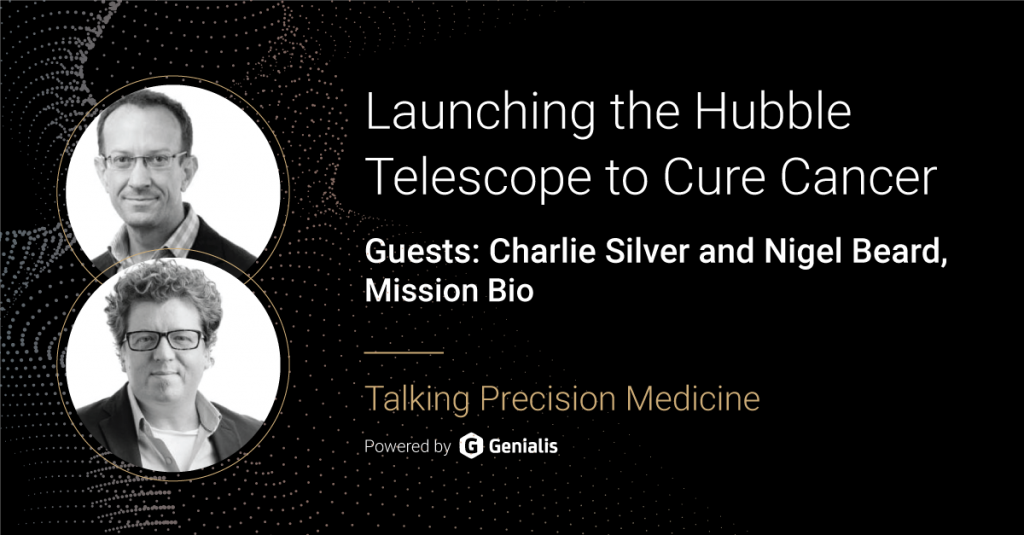 Welcome to the Talking Precision Medicine podcast. In this series, we sit down with experts on the application of AI and big data analytics in the drug discovery space. Our guests are innovators, business decision makers and thought leaders at the intersection of data and therapeutics. We discuss the promise, practice, challenges, and myths of AI in precision medicine. This show is brought to you by Genialis, and Rafael, our CEO, is your host.
Genialis is focused on data integration and predictive modeling of disease biology to help accelerate the discovery and de-risk the development of novel therapeutics.
Today our guests are Charlie Silver and Nigel Beard. Charlie is CEO, and Nigel CTO, of Mission Bio. Mission Bio is a single-cell analysis platform company empowering researchers to cure cancer. They are the first company to deliver simultaneous measurement of the genotype and phenotype at single-cell resolution.
In this episode, we talk about the audacious mission at Mission Bio, and how their groundbreaking platform enables a whole new set of questions to be answered in cancer research. We also go deep on potential clinical applications and the future of single-cell multi-omic datasets.
Episode highlights:
The Mission Bio single-cell platform measures every molecule you would want to measure out of every single cell in a cancer biopsy.
There is one study in particular, done as a collaboration with UCSF and UPenn, in which researchers looked at therapeutic resistance to targeted therapies for leukemia. And they found using scDNA, with its sensitivity for mutational profiling—they were able to map clonal architecture to identify resistance mutations and resistant clones, and to track these through treatment and understand the resistance mechanisms.
Single cell gives another order of magnitude sensitivity on top of bulk sequencing. MissionBio expanded the platform to include the DNA and protein simultaneously at the single cell level to genotype and phenotype cells at the single cell level. And that opens up a whole host of really important applications for cancer discovery, and biomarkers, and delivery for different disease areas within cancer.
The defining features of [the MissionBio] culture are that we are curious, collaborative and driven by our mission of enabling our customers to cure cancer. And these enable this multidisciplinary team to trust each other and to question each other but also be very respectful and openly collaborative with each other.
We're about to supply the Hubble Space Telescope for the genome world. We are going to be able to give that depth of insight into connected analytes
2020 is going to be the year of single-cell multi-omics