DNA solves the oldest cold case with David Mittelman | Podcast #18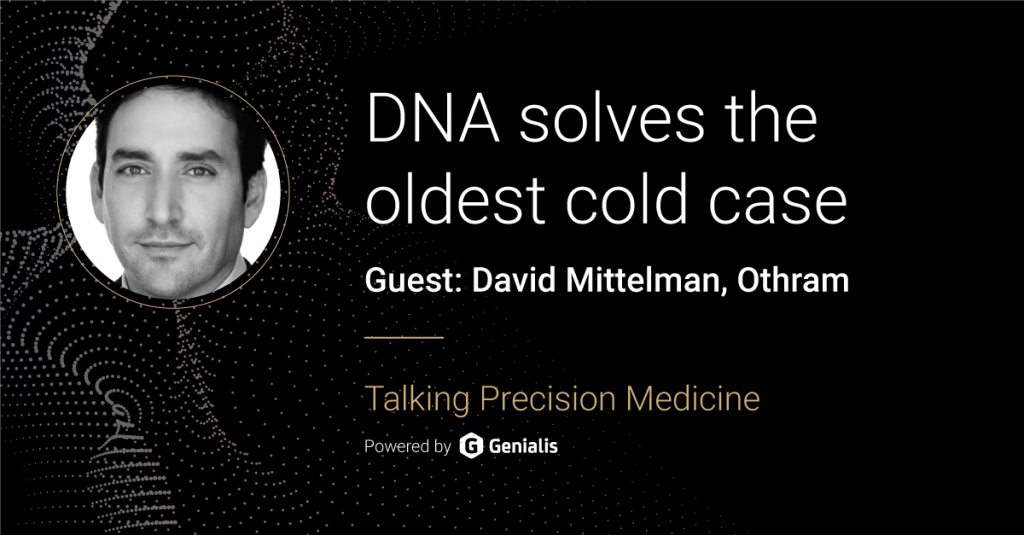 Welcome to the Talking Precision Medicine podcast. In this series, we sit down with experts on the application of AI and big data analytics in the drug discovery space. Our guests are innovators, business decision makers and thought leaders at the intersection of data and therapeutics. We discuss the promise, practice, challenges, and myths of AI in precision medicine. This show is brought to you by Genialis, and Rafael, our CEO, is your host.
Genialis is focused on data integration and predictive modeling of disease biology to help accelerate the discovery and de-risk the development of novel therapeutics.
Today's episode is a bit different — different in that we are rejoined by a previous guest — David Mittelman. David is CEO of Othram, the first genomics-based forensics company. The audience response to our first conversation was so overwhelming we wanted to have David back on. And the timing couldn't be better. Since our last chat, David and Othram have been all over the news, and have launched a new database product, DNAsolves.
Episode highlights:
DNAsolves is meant for helping law enforcement. It's an opportunity to contribute your profiles and information from other testing companies. There is no public access, once you get your information in, you can only get the information about your particular data, there is no public search. The only thing you can do on our site is to contribute data to help solve a crime.
Idaho cave first discovered in 1979, but the body remained unidentified for 40 years. We were the lab that basically took the material and produced a genome sequence from it. The twist to the story is that we produced a genome sequence and then these two genealogists discovered that the body belonged to someone who is over 100 years old.
The inflection point is going to be around 3rd of 4th cousin. I think the goal is, if most of folks can be connected to the 3rd of 4th cousin I think we have a tangible way to make an ID.
I talked with a district attorney (DA) and he said, it's great that you're solving cases, but I don't care about solving cases, I care about prosecuting cases. It's not enough to simply solve a case, you need to do it in a way that is well documented in line with regulatory expectations so that that case can be prosecuted.
We want to push forward and drive ahead that discussion around standards and regulatory process.