Ethics and Policies of Precision Medicine on the Global Stage with Elissa Prichep and Cameron Fox | Podcast #22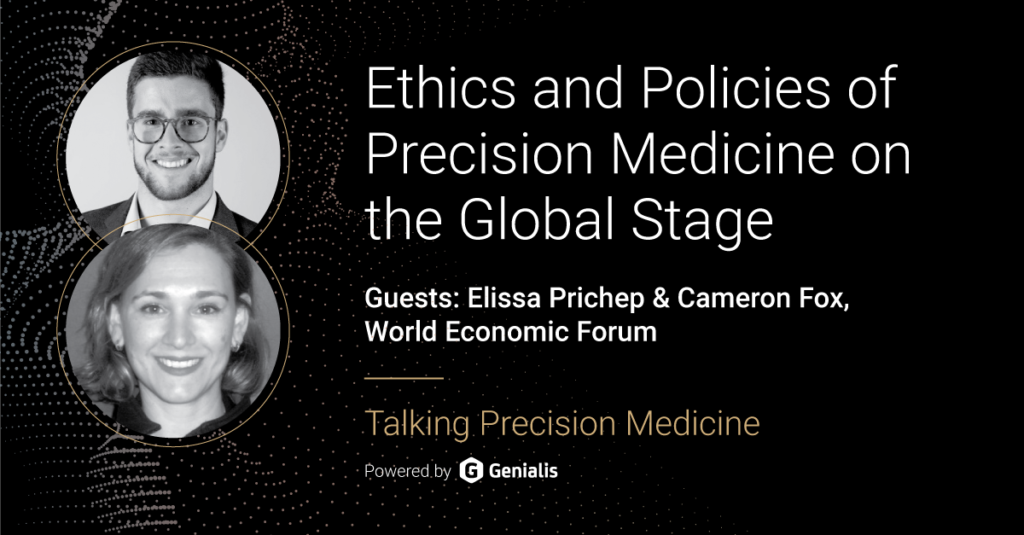 Welcome to the Talking Precision Medicine podcast. In this series, we sit down with experts on the application of AI and big data analytics in the drug discovery space. Our guests are innovators, business decision makers and thought leaders at the intersection of data and therapeutics. We discuss the promise, practice, challenges, and myths of AI in precision medicine. This show is brought to you by Genialis, and Rafael, our CEO, is your host.
Genialis is focused on data integration and predictive modeling of disease biology to help accelerate the discovery and de-risk the development of novel therapeutics.
Our guests for this episode of Talking Precision Medicine are Elissa Prichep and Cameron Fox of the World Economic Forum. Elissa and Cameron take us through the W.E.F's precision medicine initiative, and explain how anticipating ethical tensions is key to envisioning policies for precision medicine across the globe.
Let's get right to it.
Links:
Episode highlights:
World Economic Forum and precision medicine
The World Economic Forum is a 50 year old international organization committed to improving the state of the world. Numerous different projects and platforms across the Forum seek to create multi stakeholder collaborations to come together and think about solving some of the world's greatest long term problems, things that individual organizations wouldn't be able to address.
A couple of years ago the Forum launched the Center for the Fourth Industrial Revolution to ensure that the development and application of emerging technologies benefits both people and the planet. It brings together stakeholders to identify the impacts of these technologies, co-design innovative governance protocols and policy frameworks and pilot them with partners across the world. A part of these endeavors is also the focus on genomic medicine.
One of the platforms of the Forum is called Shaping the Future of Health and Healthcare. The mission of this platform is to ensure that every person on the planet has access to the highest standards of health and healthcare available to them by 2050.
The Leapfrogging with Precision Medicine project, which is part of the Precision Medicine portfolio of the Forum, focuses on codesigning and piloting policy, governance and business frameworks that enable healthcare leaders in emerging economies to prepare for and integrate precision medicine approaches into their health ecosystems.
Vignettes on Genomic Data
Genomic data is an especially sensitive form of health data, and its collection and use support scientific research, improved diagnosis and disease treatments that underscore precision medicine. Genomic data collection is accelerating, including in low- and middle- income countries (LMICs), to fill critical gaps in understanding of populations not traditionally included in genomics and precision medicine. Without future looking data policies, countries face two main risks:

Their genomic data do not inform scientific research that may lead to more population-relevant diagnostics and treatments; or
Their genomic data may be used by and benefit primarily outside parties.

The Leapfrogging with Genomic Data workshop brought together thought leaders in policy, bioethics, academia and industry to identify the design challenges and ethical tensions that need to be addressed in order to positively shape the trajectory of genomic data policy development. This was achieved, in part, by using vignettes on the issues of consent, data privacy, data access and benefit sharing, that highlighted opportunities and risks germane to LMICs, to identify priority elements of data policies that are future oriented and address growing ethical issues.
The vignettes, while fictionalized, are based on real situations that have or may cause points of conflict but do not yet have solutions. Each vignette was addressed by two groups with opposing personas, neither of whom is clearly right or wrong. Groups had to work through a situation as their persona before addressing their counterpart group in the plenary sessions. To learn more about this approach you can visit the Guide to Creating and Using Scenario Vignettes in Workshop Design.
Genomic Data Policy Framework and Ethical Tensions white paper
One of the workstreams of the Leapfrogging with Precision Medicine project is focused on developing a framework on genomic data policy, addressing the topics of consent, privacy, data access, and benefit sharing, as well as tools to help address the ethical tensions inherent in these topics. A white paper on genomic data policy framework and ethical tensions recently has been published as a result.
The content of this white paper was developed through desk research, expert interviews and multi stakeholder workshops described above.
In the white paper, the areas of focus for the policy framework are four foundational elements of human genomic data collection and use: consent, data privacy, data access and benefit sharing.
These are followed by six ethical tensions that policy-makers, researchers, clinicians, business leaders and others should be aware of when crafting genomic policy or engaging in the collection and use of genomic information — Balancing:

Individual privacy and societal benefits,
Open and restricted data access,
Receiving benefits and altruistic donations,
Community and researcher oversight,
Inclusion and exclusion and
Confidentiality and duty to inform.

As precision medicine advances it has the opportunity to bring a lot of good to the world, but if not addressed correctly it also has the opportunity to drastically increase healthcare disparities across the world.