Genialis Renews ISO 27001 Certification for Fifth Year Running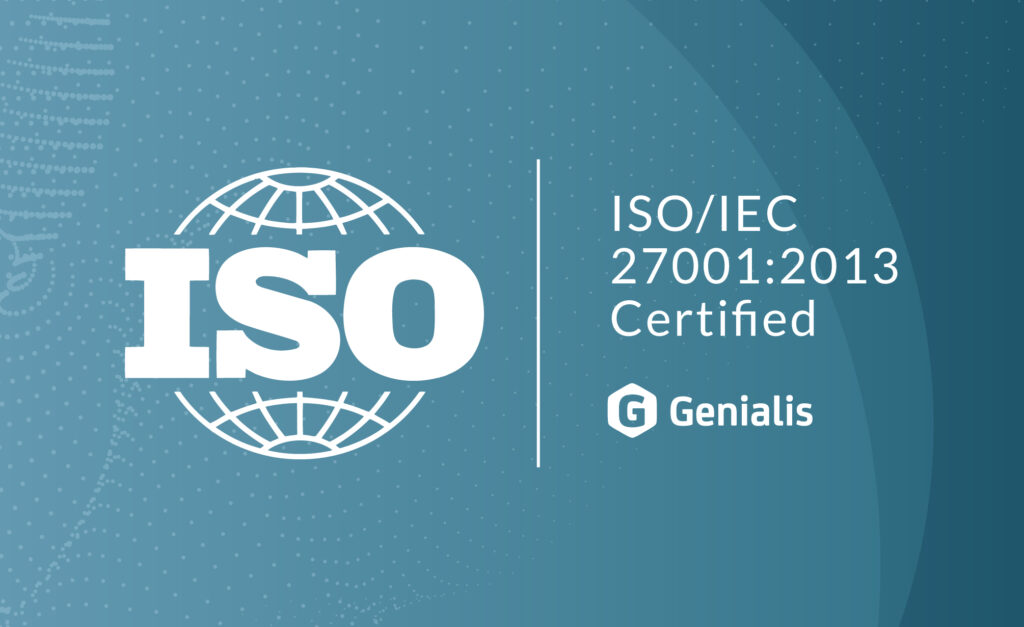 Renewed credentials underscore the computational precision medicine company's commitment to data security, integrity and privacy.
Boston – May 17, 2022

Genialis, a leader in applied data science for the development of precision medicines, today announced it has successfully passed an external ISO/IEC 27001:2013 certification audit. This is the fifth consecutive year the company has earned this merit, validating Genialis' commitment to securing its customers' most sensitive and valuable data.
Information Security Management is an essential consideration when working with sensitive data such as those generated from clinical and preclinical R&D. ISO 27001 defines frameworks for establishing, implementing, maintaining and continually improving an information security management system. This recertification signals Genialis' commitment from top-down and bottom-up to continual improvement of information security management. This past year saw the adoption of a new software suite as part of the quality management system, as well as major updates to lifecycle SOPs for both software development and data.
"Our research and commercial partners trust that we take their sensitive data seriously. The ISO standard not only helps us achieve high-quality science, but it also communicates to our stakeholders that we are committed to and invested in getting it right," said Rafael Rosengarten, Ph.D., CEO of Genialis. "Maintaining standards like ISO 27001 is one more example of our team's dedication to our core values of constructiveness and ownership – helping us achieve a tremendous milestone with truly lean execution."
In April 2022, Genialis announced updates to Expressions™, the FAIR-inspired data management and bioinformatics processing software suite, to make analyzing and querying data faster, smarter and safer. Expressions serves as the foundation for Genialis' computational precision medicine technology stack, fueling ResponderID™, the patient-centered AI platform for modeling complex disease. This latest release included upgrading existing security features and password requirements to the latest best practices.
Genialis will attend the 2022 American Society of Clinical Oncology (ASCO) Annual Meeting in Chicago from June 3 – 7. To schedule a meeting or for more information on Expressions, ResponderID and Genialis, please visit www.genialis.com or email info@genialis.com.

About Genialis
Genialis is a computational precision medicine company unraveling complex biology to find new ways to address disease. ResponderID™, Genialis' clinical biomarker discovery platform, defines, models, and validates actionable biomarkers and optimally positions novel drugs to accelerate translational research and clinical development. Genialis is trusted by biopharma and big pharma alike, and together, we bring precision to medicine.
Media Contacts
Andrea Vuturo
andrea@vuturo.com
+1-415-689-8414