Genialis and OncXerna publish a novel RNA-seq and machine learning based biomarker in Frontiers in Oncology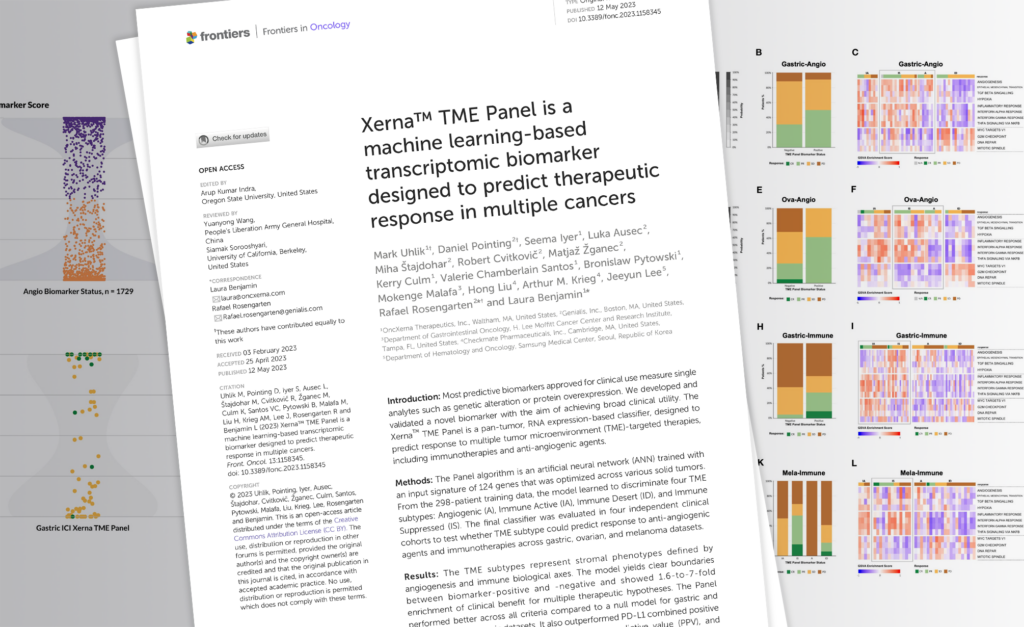 The XernaTM TME Panel classifies patients based on tumor microenvironment phenotype for multiple cancer types and drug targets
The culmination of several years of research, scientists from Genialis, Inc., OncXerna Therapeutics, and collaborators from Regeneron (formerly Checkmate Pharma), Samsung Medical Center and Moffitt Cancer Center recently published a study describing the development and validation of the XernaTM TME Panel.
The Xerna TME Panel represents a first in kind biomarker for patient stratification. Trained on 298 gastric cancer patient samples from the Asian Cancer Research Group, the Xerna panel classifies incoming patient samples into one of four subgroups. The subgroup phenotypes are based on a 124 gene signature that models the intersection of two biological processes that dominate the tumor microenvironment—stromal immune biology and angiogenesis.
Because the model was trained to learn biology first, rather than being trained directly on clinical outcomes, the algorithm yields testable hypotheses. Each of the four subgroups—immune active, immune suppressed, immune desert and angiogenic—is associated with a possible therapeutic approach. For example, the immune active subgroup is hypothesized to predict response to immune checkpoint inhibitors, while the angiogenic subgroup may respond best to anti-VEGF therapies. Immune suppressed, meanwhile, represents opportunities for combinations and next-gen immune therapies.
In the Frontiers paper, Uhlik and colleagues describe the conception and training of the computational model. They go on to test three of the phenotype-to-therapy hypotheses through retrospective analysis of both real world and clinical trial RNA-sequencing data. Validation data sets from clinical practice included gastric cancer patients treated with ICI's pembrolizumab or nivolumab; and gastric cancer patients treated with anti-angiogenic ramucirumab. Investigational studies included ovarian cancer patients treated with anti-angiogenic bispecific navicixizumab and ICI-refractory melanoma treated with TLR-9 agonist vidutolimod in combination with anti-PD-1 inhibitor.
In all cases and to varying degrees, the Xerna panel proved capable of enriching for clinical response in the biomarker positive phenotype(s), while discriminating against predicted non-responders. The Xerna panel also demonstrated prognostic potential, which suggests its utility in indication selection based on shared phenotypic characteristics of the TME surrounding various cancer types. In sum, the Xerna panel is a pan cancer and pan target biomarker model.
While this publication has been in the works, the OncXerna and Genialis teams have presented these and other results at numerous industry conferences including AACR and SITC over the past few years. Furthermore, OncXerna has announced commercialization deals with both Qiagen, for a companion diagnostic device to support the development of navicixizumab, and Exact Sciences, which has incorporated the panel within its OncoExTraTM assay. Thus the Xerna panel is available for both retrospective analysis via direct collaboration with OncXerna and Genialis, and for general translational and clinical research via these commercial diagnostic platforms.
For more information, email biomarkers@genialis.com
Link to Frontiers in Oncology article:
Xerna™ TME Panel is a machine learning-based transcriptomic biomarker designed to predict therapeutic response in multiple cancers