AI and Ethics in Healthtech: Who is Innovating Most? | Podcast #31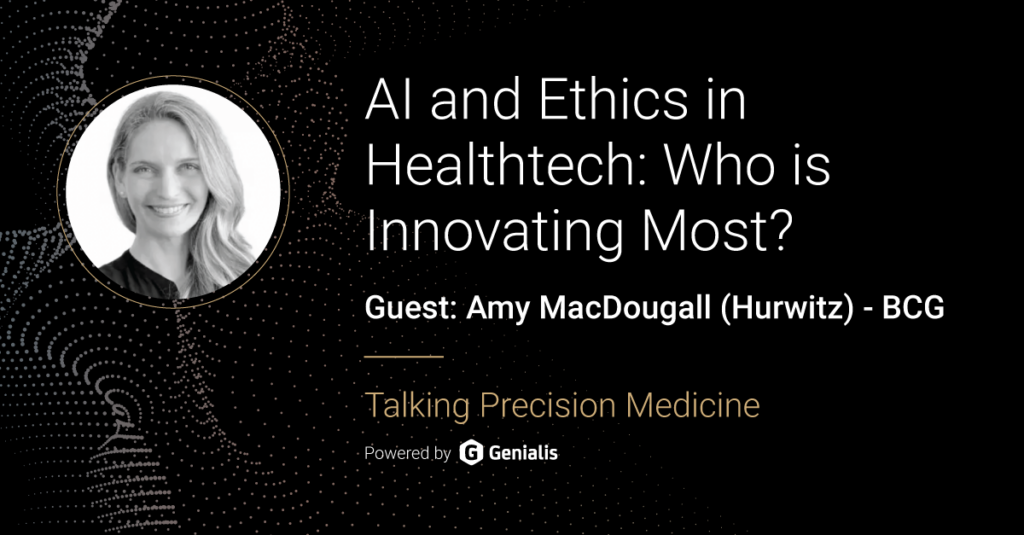 Welcome to Talking Precision Medicine — the podcast in which we discuss the future of healthcare and health technology, and how advances in data and data science are fueling the next industrial revolution.
In this episode, Genialis CEO Rafael Rosengarten speaks with BCG management consultant and healthcare innovation expert Amy MacDougall. They discuss emerging trends in healthcare, the role of AI, ethics and more, as well as BCG's recently released 50 Most Innovative Companies List.
Come on in and have a listen.
Links:
Episode highlights:
Career Development: From Biomedical Research to Management Consulting
Amy MacDougall (Hurwitz) joined the PhD program in Translational Biology & Molecular Medicine at Baylor College of Medicine, which appealed to her because it is focused on bench-to-bedside applications.
During graduate school, she wanted to play a role in commercialization of science and founded a group called Inventor to translate lab discoveries into marketable products.
She came across management consulting and accepted an offer from the Boston Consulting Group (BCG) after completing her PhD.
"With my healthcare background, I gravitated towards the healthcare practice as my first focus and over the first few years really discovered a passion for corporate strategy. And even further, how you incorporate a financial lens into strategic planning. So not only: do we want to be a great company and do good? But: how do we get credit for that? To enable additional research, additional good in the world through shareholder return and valuation." – Amy MacDougall (Hurwitz)
MacDougall's Work at BCG
BCG helps clients identify their unique value and allocate capital effectively.
They align actions with investor expectations to achieve revenue growth and margin goals.
MacDougall (Hurwitz) focuses on med tech and bio pharma, including the fields of medical devices, digital health, genetic sequencing, cell and gene therapies.
Innovation and BCG's 50 Most Innovative Companies List:
2023 marks the seventeenth edition of the report, showcasing the top 50 innovative companies.
This year's focus is on AI, a prominent topic in innovation.
The ranking is based on four variables derived from a global double-blinded innovation survey and considers value creation and shareholder return for 75% of the score.
Among the leaders in the industry, a significant percentage prioritize innovation as one of their top three strategic priorities.
Current Trends of AI in Healthcare:
MacDougall (Hurwitz) believes healthcare is expected to experience a significant impact from AI.
AI disrupts the entire healthcare value chain, from R&D development and identification of drug targets to personalized therapies and remote patient monitoring.
This disruption continues throughout the development process, operations of pharma companies, manufacturing, processing orders, and the supply chain.
According to BCG's growth and innovation analytics team's analysis, drug discovery and virtual care applications receive the most investment and activity.
"A lot of strategic decisions are driven by revenue growth or margin expansion and ultimately shareholder return. But it's also about the patients. And it's really wonderful when I work with clients across the space that they really do think about the patients, and how do we better serve the population. So you know it's: "Let's be a good company, do good, but also be a good stock and drive value." So I think both of those lenses are driving the shift to precision and personalized medicine applications." – Amy MacDougall (Hurwitz)
Ethics and Regulatory Challenges of AI in Healthcare
MacDougall (Hurwitz) believes that two significant issues with AI in the healthcare industry are cybersecurity and health equity. These challenges are particularly daunting for smaller companies as they usually have less resources.
There is a substantial risk that AI could further amplify disparities in healthcare representation and opportunities and therefore, we must be incredibly intentional in how we develop AI tools to incorporate equity.
AI can play a role in accessing diverse patient populations and promoting inclusion in clinical trials.
MacDougall (Hurwitz) observes that many clients have a team or at least a person dedicated to responsible AI approaches. This is also an area that BCG covers extensively and offers resources for healthcare players.
The Future in the Field
MacDougall (Hurwitz) admits that over the past few years, economic uncertainty has been on the rise.
On the other hand, she is positive that despite uncertainty, at some point, the economy will bounce back. She emphasizes the need to focus on both short-term and long-term goals.
MacDougall (Hurwitz) is most excited about unlocking the potential of the human genome, understanding individual patient profiles, ongoing advancements in oncology, and utilizing data, AI, and digital capabilities to support the entire healthcare value chain.