To achieve personalized medicine, start by getting the dose right | TPM podcast #32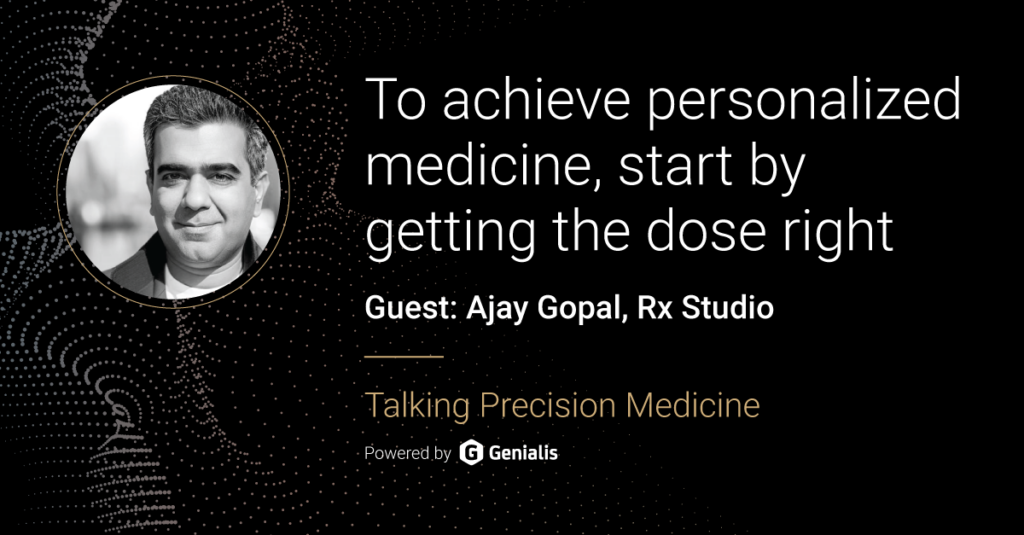 Welcome to Talking Precision Medicine (TPM podcast) — the podcast in which we discuss the future of healthcare and health technology, and how advances in data and data science are fueling the next industrial revolution. 
In this episode, Genialis CEO Rafael Rosengarten sits down with Ajay Gopal, CEO and founder of Rx Studio. Rx Studio is a technology company using data science to tackle a major limitation to personalized medicine: drug dosing.
Come on in and have a listen.
Links:
Episode highlights:
Rx Studio's Vision and Focus:
Rx Studio's mission is to personalize pharmacological interventions and empower clinical decision-makers with the latest computational tools.
They aim to create a future where healthcare interactions prioritize prevention and personalized interventions based on individual context and genetics.
Their current focus is on building applications that optimize healthcare outcomes for different stakeholders, expanding from infectious diseases to other medication classes based on clinical demand.
Bridging Research and Clinical Decision:
Rx Studio aims to bridge the gap between research and clinical decision-making.
Their goal is to make this knowledge readily available to clinicians, empowering them to improve healthcare outcomes at the point of care.
Instead of solely developing new models, they curate decades of existing information and models to create a marketplace that offers maximum choice and personalization in healthcare decision-making.
Clinician Decisions and Challenges:
Rx Studio addresses the structural problem of dosing recommendations that fail to account for significant variances, leading to suboptimal efficacy.
Gopal emphasizes that clinicians encounter a "cold start" problem when initiating treatment without prior feedback from the patient.
Establishing a feedback loop with patients enables personalized treatment and normalization of covariates, leading to accurate forecasting of drug levels and optimizing treatment efficacy.
"From a care provision perspective, the maximum risk is generated when a drug is taken to market, because clinical trials include a few hundred people at most. Dosing recommendations for the drug have to, in theory, provide for 7 billion people. And there's massive orders of magnitude, of variance, that are not accounted for." – Ajay Gopal, Rx Studio
Global Reach and Localization:
Rx Studio gains insights into variances in drug responses across different geographies and population groups, helping tailor treatment decisions.
Overcoming challenges related to data residency, privacy, and compliance is one of their top priorities.
They address challenges related to data residency and privacy regulations through compliance and adaptation, leveraging the cloud and localized and compliant regions.
On Language Models and the Future:
While language models are useful, Gopal emphasizes they have limitations and potential errors.
Rx Studio aims to integrate personal intelligence into every intervention decision, ensuring personalized healthcare based on individual context and portable medical data.
They envision a future where personalization in healthcare is as effortless as everyday transactions, and personal context is readily available to doctors to enhance healthcare outcomes.
"At the end of the day, when you prompt [language models], something, they return the most likely historically trained information back to you. I'm going into the market with the thesis that we've been doing dosing wrong for decades. Now, if you're going to tell me that the prompt is going to return data trained on the last 3 decades of information, it's likely to be wrong." – Ajay Gopal, Rx Studio
This has been Talking Precision Medicine. Please share our podcast with your colleagues, leave a comment or review, and stay tuned for the next episode. Until then you can explore our TPM podcast archive and listen to interesting guests from our past conversations.