Genialis and BioLab Win Best Regular Paper at the 21st International Conference of Artificial Intelligence in Medicine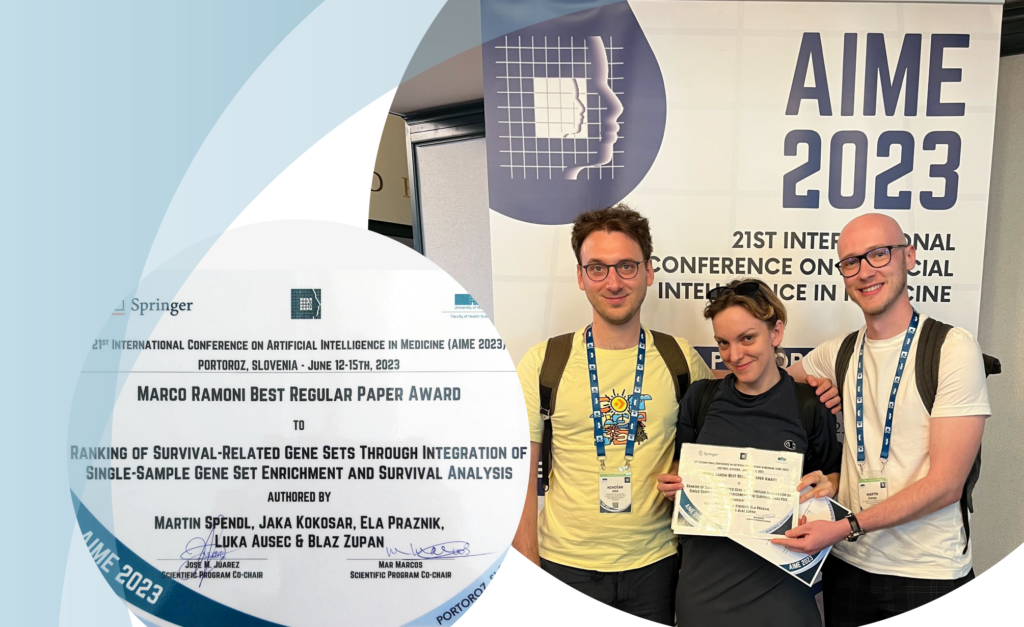 AIME 2023 Marco Ramoni Award-Winning Paper Describes a New Method for Survival Analysis and Gene Ranking
Boston, MA, USA–August 2, 2023
Genialis, a computational precision medicine company unraveling complex biology to find new ways to treat disease, today announced that together with the Bioinformatics Laboratory (BioLab) at the University of Ljubljana, the company earned the Marco Ramoni Best Regular Paper Award at the 21st International Conference of Artificial Intelligence in Medicine (AIME 2023), held in June in Portorož, Slovenia for its conference paper, "Ranking of Survival-Related Gene Sets through Integration of Single-Sample Gene Set Enrichment and Survival Analysis."
Authored by Martin Špendl, Jaka Kokošar, Ela Praznik, and Blaž Zupan from BioLab, and Luka Ausec, Chief Discovery Officer at Genialis, the award-winning paper, not only represents an important and attention-garnering achievement, but also speaks to the fruitfulness of the long-standing collaboration between academia and industry.
The paper describes a new method for survival analysis and gene ranking and was created out of a study that addresses a fundamental question: How can we best predict the survival of cancer patients based on a biological description that is more complex than a single gene's mutation? Previous studies, such as the work by Xia et al. (2019), investigated the impact of various gene sets on patient survival. However, there was still a lack of systematic and efficient computational methods for such analyses. Recognizing this gap, the authors devised the solution presented in their paper, offering a computational approach that examines gene sets in relation to patient survival rates by combining two established methods, namely single-sample gene set enrichment analysis (ssGSEA) and survival analysis (comparison of survival curves with a log-rank test). Using this method, the team successfully identified gene sets that better-predicted survival in particular cancer types and showed that the results of the method were supported by the empirical literature. This approach provides a new tool to help dissect the intricate biology of cancer itself and has an immediate application in the development of prognostic biomarkers.
In anticipation of future advancements, the researchers have also taken an additional step by integrating their approach into Orange, a visual analytics framework for data mining. By extending an invitation to fellow researchers, the authors aim to facilitate access and general use while building upon their method to accelerate advancements in cancer research, paving the way for improved patient outcomes.
"The method presented in this paper has the potential to significantly enhance our understanding of cancer biology and ultimately contribute to more personalized and effective treatment strategies," says Jaka Kokošar, a doctoral student from BioLab.
"After all, our biology isn't controlled by single genes acting alone – it's an interplay of multiple genes working together. Our research introduces a computational way to associate groups of genes to patient survival rates and thus paint a much fuller picture," says Martin Špendl, a graduate student at BioLab and former employee of Genialis. "We are excited to present, within this paper, a powerful tool for researchers and clinicians to explore the complex interplay of genes in cancer, addressing the limitations of examining individual genes and contributing to more effective treatments."
"We are quite honored to have been selected from a prestigious list of candidates for the AIME Marco Ramoni Best Regular Paper Award," said Luka Ausec, Ph.D., from Genialis. "While our primary focus at Genialis has been on predictive biomarkers for patient response to specific therapies, our collaboration with BioLab exemplifies our commitment to integrating prognostic modeling into our work. The driving force behind our joint effort was the recognition that prognostic modeling equips healthcare professionals with the ability to forecast disease outcomes, personalize treatment plans, and enhance patient counseling, which aligns to Genialis' mission to deliver benefits and hope to patients and their families."
About Genialis
Genialis, the RNA biomarker company, is creating a world where healthcare delivers the best possible outcomes for patients, their families and communities. ResponderID™, Genialis' machine-learning-driven disease modeling platform, delivers actionable biomarkers and optimally positions novel drugs to accelerate translational research, streamline drug development and ensure the best possible clinical care. Genialis is trusted by pharma and diagnostics partners, and together, we are transforming medicine through data. For more information, please visit www.genialis.com
Media Contacts
Andrea Vuturo
Vuturo Group for Genialis
andrea@vuturo.com
+1-415-689-8414