Genialis Presents Data at SITC 2023 on RNA-Based Biomarkers to Predict Immunotherapy Response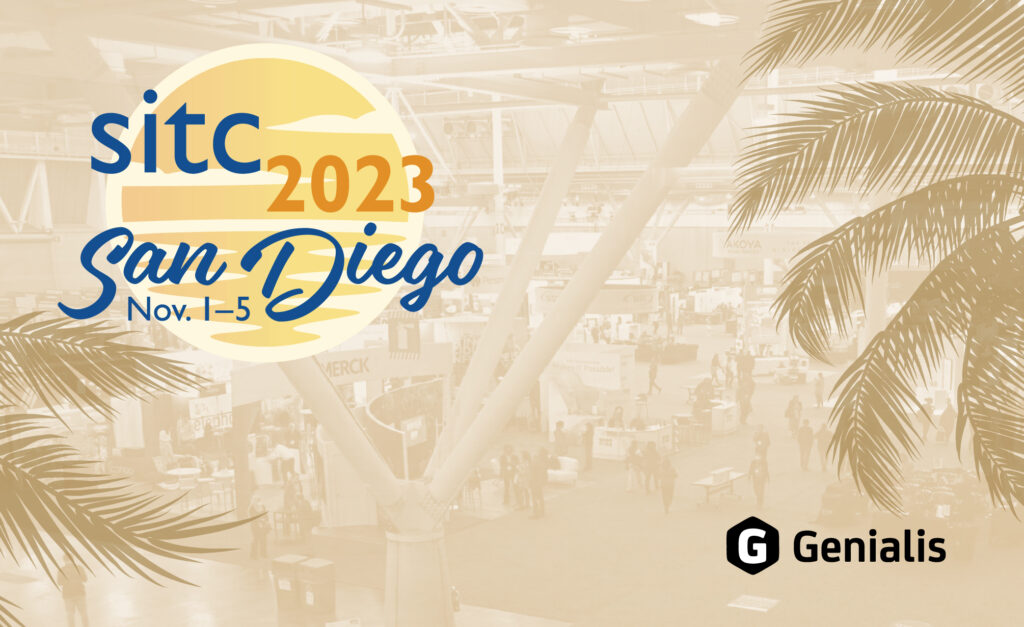 The Xerna TME panel identified nearly 50 percent of colorectal cancer patients with the potential to benefit from immunotherapy, a dramatic expansion over traditional TMB and MSI biomarkers
BOSTON & SAN DIEGO, November 03, 2023, Busineswire.com
Genialis, the RNA-biomarker company, today announced new data detailing how RNA sequencing data can help elucidate tumor biologies that may be amenable to immunotherapies and targeted agents. The information was presented in two posters at the Society for Immunotherapy of Cancer's (SITC) 38th Annual Meeting.
In the first poster with Exact Sciences, Genialis found the Xerna™ TME Panel, an RNA-based pan-tumor biomarker previously shown to be predictive of responses to multiple immune-targeted cancer therapies, identified 49.4 percent of colorectal cancer patients (N = 336) as having immune biological features that may benefit from immunotherapy. By contrast, only 11 percent and 9 percent were TMB- or MSI-High, respectively. Many of these patients also harbor genetic alterations that have associated targeted therapy options, opening up the opportunity for novel combined therapeutic approaches.
In a second presentation, Genialis introduced its ResponderID MSI program, demonstrating how a machine learning-based classifier of microsatellite instability (MSI) from RNA sequencing data performs comparably to state of the art IHC- and PCR-based MSI detection methods. The Genialis model yielded a mean AUC ROC of 0.96, with all but one validation dataset >0.94. The MSI classifier is tumor-type agnostic, and does not require matched normal samples, as is the case for some PCR-based methods. The Genialis RNA-Seq pipeline solves the need for a fast, accurate, and accessible NGS-based method for MSI detection, aiding in the identification of patients that may benefit from immune checkpoint inhibitor therapy.
"RNA biomarkers provide more comprehensive and dynamic insights into cellular states and regulatory processes compared with DNA or protein biomarkers. And in the case of these two posters, Genialis is showing how using an RNA-based approach helps identify subsets of patients who may benefit from immunotherapy treatment," said Mark Uhlik, Ph.D., VP of Biomarker Discovery. "Genialis has been successful in developing RNA-based biomarkers for myriad cancer types and drug targets, and we are committed to apply our use of cutting-edge technology to aid in the development of potentially life-saving therapies."
Genialis is expert at developing RNA-based patient classifiers, a largely underutilized analyte in clinical diagnostics. Genialis ResponderID draws on multimodal datasets, including RNA-seq data, and employs ML/artificial intelligence (AI) to analyze changes in tens or hundreds of genes relevant to disease pathology. The proprietary algorithms built into ResponderID then identify patterns of RNA transcription that characterize the underlying biology of disease states and the patient's likely response to therapeutics. By probing the interactions of the underlying disease biologies, ResponderID biomarkers reflect complex disease phenotypes.
Genialis Abstract #219, "Prevalence of genomic alterations in Xerna tumor microenvironment subtypes in colorectal cancer patients," and Abstract #179, "Profiling microsatellite instability using RNA sequencing data" will be on display at the San Diego Convention Center during SITC 2023. For more information on ResponderID or to make an appointment with Genialis to learn more, please visit www.genialis.com
About Genialis
Genialis, the RNA biomarker company, is creating a world where healthcare delivers the best possible outcomes for patients, their families and communities. ResponderID™, Genialis' machine-learning-driven disease modeling platform, delivers actionable biomarkers and optimally positions novel drugs to accelerate translational research, streamline drug development and ensure the best possible clinical care. Genialis is trusted by pharma and diagnostics partners, and together, we are transforming medicine through data.
Media Contacts
Andrea Vuturo
Vuturo Group for Genialis
andrea@vuturo.com
+1-415-689-8414