The Xerna™ TME Panel potentially predicts response to a combination of the TLR9 agonist vidutolimod and PD-1 inhibitor pembrolizumab in metastatic melanomas with prior anti-PD-1 treatment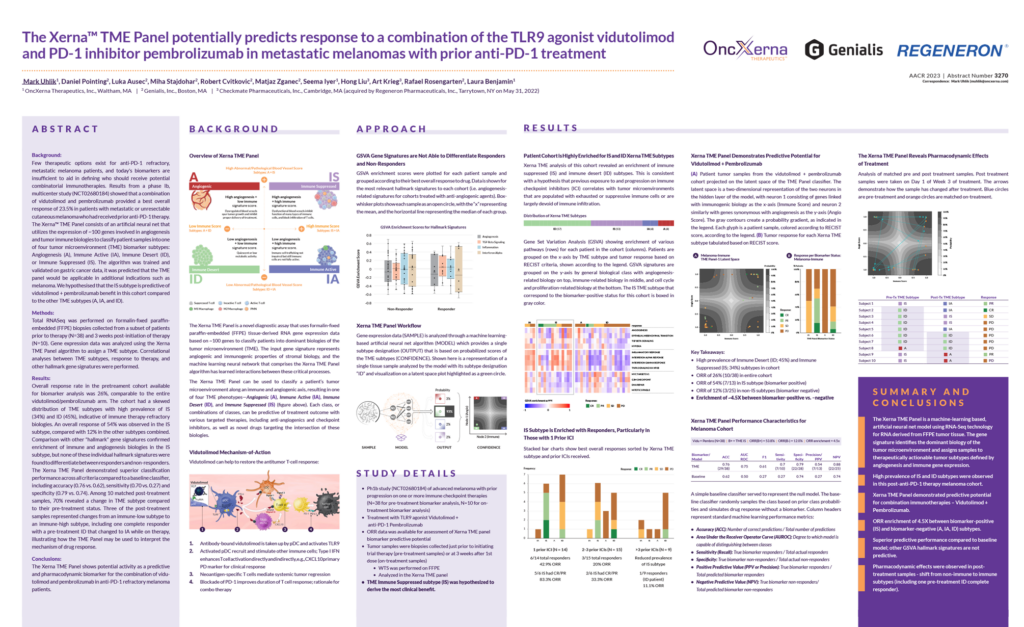 Co-presented by Genialis' Daniel Pointing at AACR Annual Meeting 2023, this poster illustrates the potential of the Xerna™ TME Panel as a predictive and pharmacodynamic biomarker for the combination of vidutolimod and pembrolizumab in anti-PD-1 refractory melanoma patients. The Xerna TME Panel consists of an artificial neural net that utilizes the expression of ~100 genes involved in angiogenesis and tumor immune biologies to classify patient samples into one of four tumor microenvironment (TME) biomarker subtypes. Utilizing the Xerna TME Panel enables us to more effectively stratify the patients who are more inclined to derive benefits from the treatment, interpret the mechanism of drug response, and understand how the tumor microenvironment changes whilst on treatment.
The poster is available here.