RNA Biomarkers in Focus: Key Takeaways from SITC and ESMO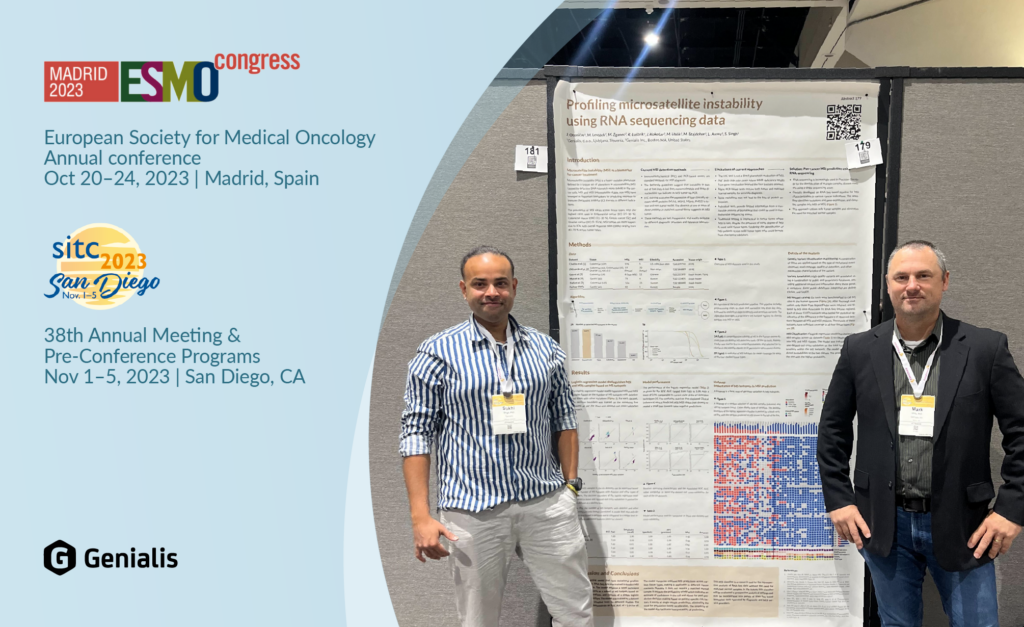 Genialis recently took part in two pivotal conferences in cancer research: the Society for Immunotherapy of Cancer's 38th Annual Meeting (SITC 2023) and the European Society for Medical Oncology's Congress (ESMO 2023). Here's a recap of the key highlights and Genialis' contributions.
SITC 2023
Prevalence of Genomic Alterations in Xerna Tumor Microenvironment Subtypes in Colorectal Cancer Patients
In collaboration with Exact Sciences, Genialis presented new analyses of a colorectal cancer cohort (N=326) using the Xerna™ TME Panel. This panel uses RNA-sequencing and machine learning to classify patients into one of four subtypes based on interactions of angiogenic and immunogenic biologies in the tumor microenvironment (TME). See the poster here.
Key Findings:
The Xerna TME Panel identified a diverse spectrum of immune subtypes in advanced colorectal cancer (CRC), showcasing the complexity of the tumor microenvironment.
Despite low prevalence of typical immune biomarkers such as tumor mutational burden (TMB) and microsatellite instability (MSI), almost half (49.4%) of CRC patients were identified as Immune Active (IA) or Immune Suppressed (IS) subtypes, suggesting potential responsiveness to Immune Checkpoint Inhibitor (ICI) therapy.
A majority (73.5%) of CRC patients harbored targetable genomic alterations associated with FDA-approved therapies, indicating a broad scope for novel combination treatments.
Identification of 21 biomarkers significantly associated with Xerna TME subtypes, especially those over-represented in high immune subtypes, provided insights into the genomic basis of immune responses in CRC.
Profiling Microsatellite Instability Using RNA Sequencing Data
Another Genialis contribution showcased at SITC was a machine learning model that analyzes mutational profiles derived from RNA-Seq data to predict MSI in cancer patients. See the poster here.
Key Takeaways:
Microsatellite Instability (MSI) has gained significance as a biomarker to predict response to Immune Checkpoint Inhibitor (ICI) therapy across various cancer types.
Traditional assays, including Immunohistochemical (IHC) and PCR-based methods, are commonly used for MSI diagnosis, but have limitations in terms of accuracy and reproducibility.
A novel machine learning model utilizing mutational profiles derived from RNA-Seq data was developed for predicting MSI in cancer patients. The model achieved high accuracy, with an ROC AUC of > 0.94 for all datasets except one.
Genialis introduced an RNA-Seq-based pipeline for MSI characterization in various cancer indications. This approach eliminates the need for matched normal samples and enhances the precision of MSI predictions.
By calling MSI from RNA-Seq data, this new model allows combining MSI with more complex signature-based biomarkers from a single analyte. Such biomarker combinations will become increasingly important with the growing focus on drug combination strategies in the immune therapy space.
The MSI classifier, applicable across diverse tissues, provides a probability of MSI, aiding post-prediction decision-making based on patient-specific factors. Its simplicity makes it valuable for retrospective RNA-Seq analysis, with potential integration into diagnostic biomarker tests.
Most Interesting Research Pieces and Topics
Tumor Microenvironment (TME)
Discussions at SITC delved into the complexities of the TME, aligning with Genialis' efforts to categorize patients based on interactions of angiogenic and immunogenic biologies in the tumor microenvironment. The emphasis on identifying patients with the potential to benefit from immunotherapy resonates with Genialis' commitment to helping patients find the right therapy at the right time.
CAR-T and Late-breaking Abstracts
CAR-Ts were center stage for an entire session of talks. Cutting-edge research presented at SITC, including discussions on MHC-II antigen presentation and inosine's effects on CAR-T cells.
Spatial Organization in Tumors
Perhaps an unexpected revelation from the study of tumor heterogeneity is the characterization of spatially organized pockets of immunosuppression. These immunosuppressive regions add complexity to overcoming resistance to checkpoint blockade therapy, emphasizing the need for comprehensive biomarkers.
Overcoming Resistance and the Gut Microbiome
As the field of gut microbiome research matures, its role in overcoming resistance to immunotherapy has become an exciting topic for both drug and biomarker development. 
ESMO Conference Overview
ESMO provided a glimpse into the future of cancer therapeutics:
ADC Breakthrough: Daiichi Sankyo's licensing deal highlighted the transformative potential of Antibody Drug Conjugates (ADCs), with promising outcomes in breast cancer and non-small-cell lung cancer.
CRC Advances: Results from the CodeBreak 300 trial offered insights into potential treatment approaches for KRAS G12C–mutated colorectal cancer.
In conclusion, ESMO showcased significant advancements in the ADC space, and highlighted the excitement brewing around the new class of KRAS inhibitors.
The Future of RNA Biomarkers is Now
Importance of Biomarkers
The critical need for biomarkers highlighted at both conferences aligns with Genialis' mission to advance cancer research through the development of powerful analytical tools, including RNA-Seq.
Role of RNA-Seq
RNA-Seq is emerging as an excellent biomarker analyte, providing comprehensive phenotypic information, while proving robust, reproducible and clinically practical. Applying machine learning to RNA-Seq data allows for the detection of predictive gene expression signatures, without sacrificing genomic mutation information. Leaning on the best of both worlds, signatures and mutations, Genialis is leading in the advancement of biomarkers that can guide personalized treatment strategies.
RNA Biomarkers Drive Progress in Cancer Immunotherapy
In conclusion, the SITC and ESMO conferences provided a platform for Genialis to share its most recent contributions in the form of RNA-based biomarkers. Genialis continues to drive progress in precision medicine and envisions a world where healthcare delivers the best possible outcomes for patients, their families and communities.